Kumburnu Beach: A Paradisiacal Spot with a Pinch of Salt
Kumburnu Beach, Fethiye: A Mesmerizing Blend of Blue and Green
Fethiye, located in Muğla, is a captivating city that enchants everyone with its sea, nature, and peaceful atmosphere. One of its unique attractions is the Kumburnu Beach, also known as "Kumburnu Public Beach," situated in Ölüdeniz. It's a slice of paradise where you can witness the harmonious blend of green and blue. Nestled within the Ölüdeniz Nature Park, you can take a dip in the sea with the scent of pine trees filling the air and enjoy a serene vacation on this magnificent beach.
Kumburnu Beach is a green haven for nature enthusiasts, simultaneously offering fun activities. This quaint beach, extending two kilometers, provides a delightful spot for both families and friend groups. You can enliven your vacation with activities such as trekking, diving, swimming, and beach games, and enjoy watching the splendid landscapes.
If you're wondering how to reach Kumburnu Beach, let me guide you. You would need to take a 2-hour 15-minute journey from Muğla to Fethiye. From Fethiye's center, the beach is just 16.8 kilometers away, approximately a 30-minute ride. If you prefer public transportation, you can conveniently travel on buses heading from Muğla or Fethiye to Ölüdeniz.
Unique features of Kumburnu Beach include its breathtaking views and its two separate sides. On one side of the beach, entrance is chargeable, while the other side is free. The paid beach has a shallow sea with golden sand, while the free beach's sea is deeper but shallow enough not to exceed waist-level. Both sides are suitable for non-swimmers and families with children.
If you plan to stay overnight at Kumburnu Beach, you can find several hotels, pensions, and bungalow houses nearby. Those who wish can camp in the Ölüdeniz camping areas and experience being alone with nature. However, remember that camping is not allowed within the Kumburnu Beach area.
At the end of the day, you can enjoy both tranquility and fun at Kumburnu Beach. Activities like paragliding, yoga, diving, boat and canoe tours, photography, trekking, swimming, beach games, and many more await you.
Lastly, while you're spending time on this beautiful beach, don't forget to respect and protect the environment. Nature is ours; let's preserve it and leave a beautiful world for future generations. So, pack your bags and come enjoy this magnificent beach. Sending love and wishing you a wonderful holiday!
Embraced by the azure beauty of Turkey's southwestern coast, Kumburnu Beach is a picturesque stretch of sand that lays claim to unparalleled natural allure. Nestled within a nature reserve, the beach promises a delightful experience to both local and international tourists. However, it seems to bear a high price tag for its charm.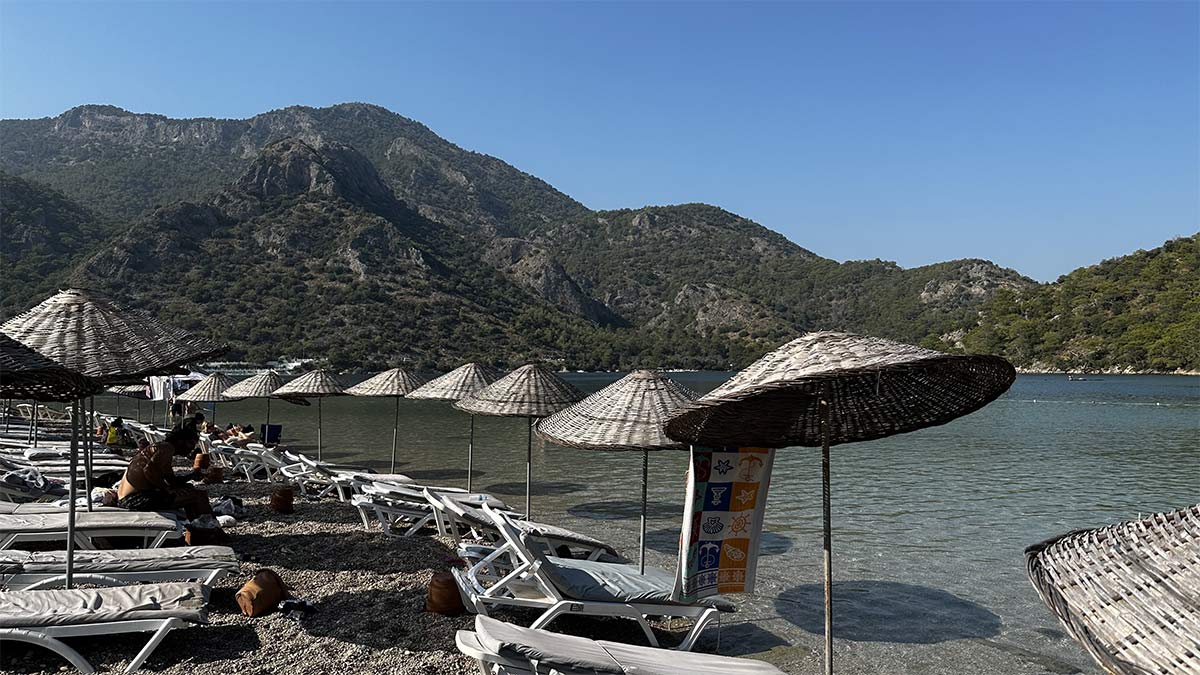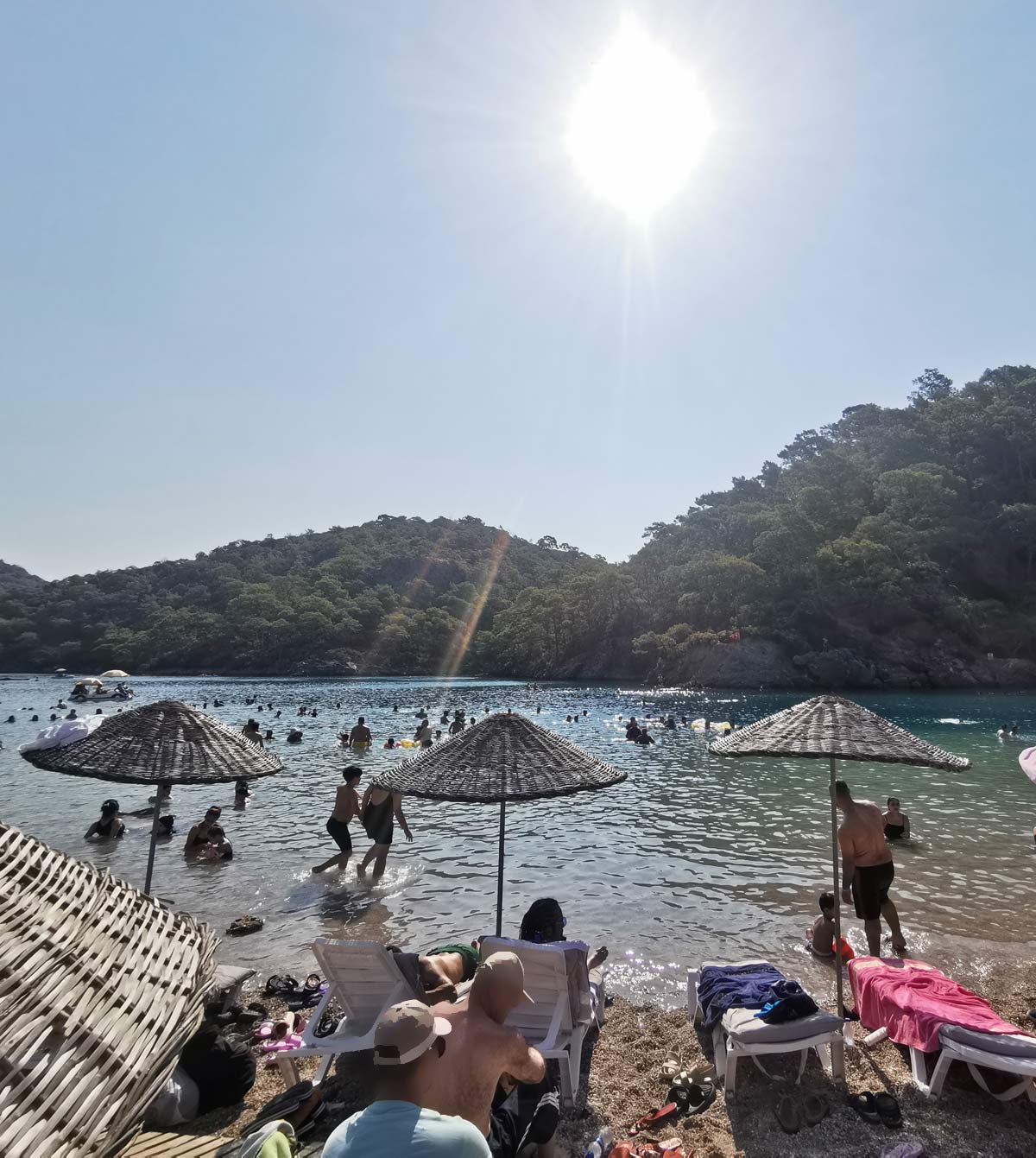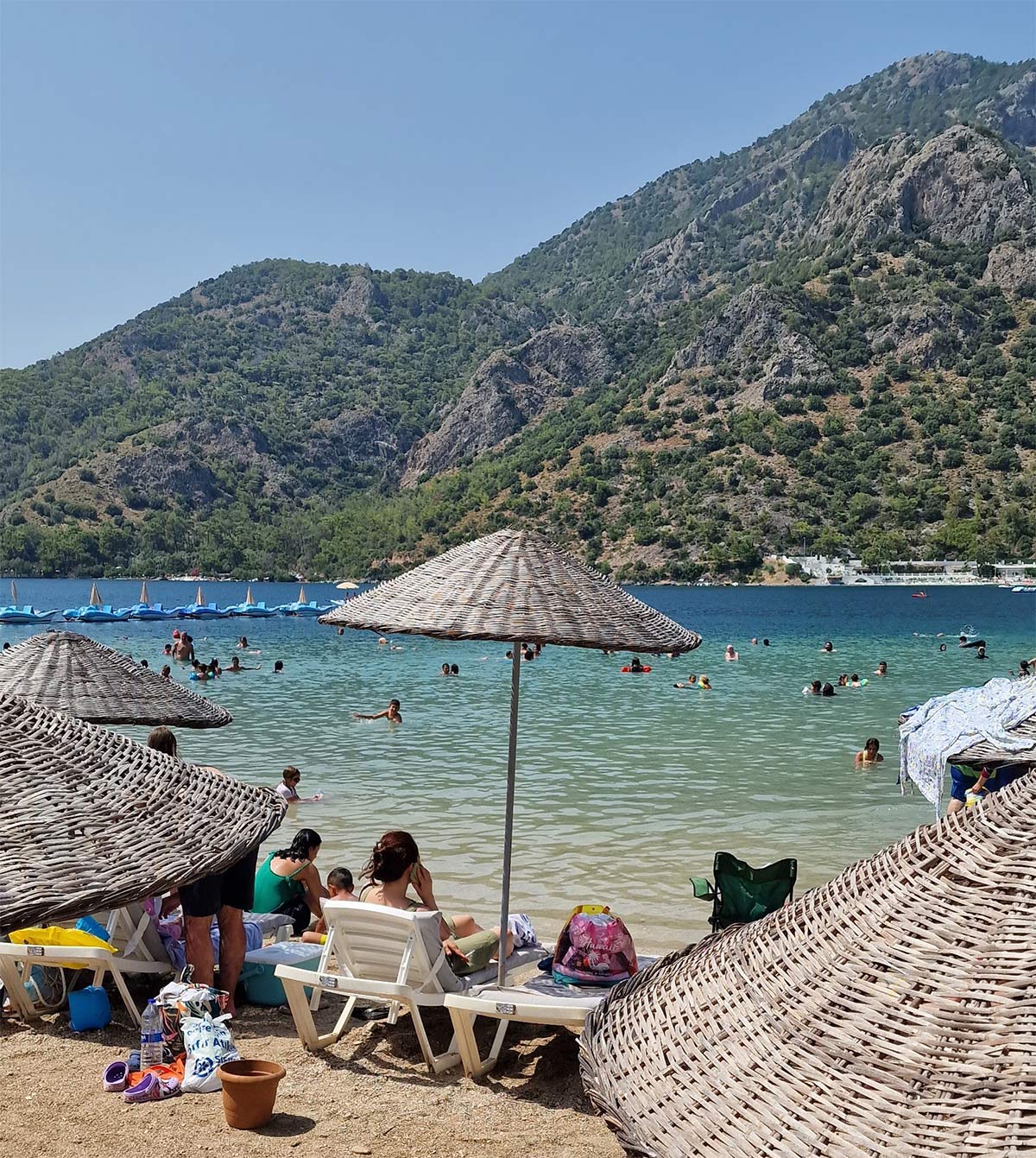 According to the views of several recent visitors, Kumburnu Beach is a fantastic seaside destination. The waters are crystal-clear, offering a rewarding swimming experience, particularly due to the nearly non-existent waves. The left side of the beach is notably cooler with more waves, whereas the right side is shallower and warmer. It is also worth mentioning that the beach turns stony rather than sandy, which might not be a preference for everyone.
On the other hand, some visitors found the beach quite crowded, with sunbeds tightly packed together. The business establishment seems to aim at squeezing in as many sunbeds as possible, resulting in a somewhat compromised personal space. However, the high level of demand, particularly during the season, might explain this strategy.
The pricing, as pointed out by many visitors, can be considered steep, especially for local tourists. Here is a quick breakdown:
1$=26 TL
Two sunbeds and an umbrella: Between 300 – 360 TL , depending on the location.
Vehicle parking fee: 100 – 120 TL ), based on visitor comments.
Cabanas: 1000 – 2000 TL ), based on visitor comments.
Toilet entrance fee: 10 TL .
Beer: 140 TL .
Food: Ranging between 200 – 300 TL.
Small bottle of water: 20 TL .
Note that these prices are as per visitor comments and may vary.
While these prices may seem excessive, one might argue that the idyllic beauty and serenity offered by Kumburnu Beach could make it worth your while. It is also recommended to arrive early, especially if you are planning to visit with children. The area under the trees on the bay side provides pleasant shade and is perfect for families with children due to its shallow, wave-free waters.
Kumburnu Beach serves as an enticing location for beach lovers with its tranquil, turquoise waters and breathtaking views. Although the high prices and certain aspects regarding the services have raised a few eyebrows, the overall beauty of the location still leaves an indelible impression on its visitors. Therefore, it might be worth experiencing at least once for those who fancy a lavish beach day under the Turkish sun.
Kumburnu Beach: A Comprehensive Tourist Guide
Located in the Fethiye district of Muğla, Turkey, Kumburnu Beach is a dazzling spot admired for its azure waters and picturesque landscapes. Besides providing detailed information about the beach's location, transportation, and features, let's venture out to explore the surrounding tourist attractions and accommodation options available in the area.
Nearby Tourist Attractions:
Babadağ Paragliding: Ölüdeniz, home to Kumburnu Beach, is a world-famous destination for paragliding. From the peak of Babadağ, you can glide along with the breathtaking panorama beneath.
Butterfly Valley (kelebekler vadisi): Located in Faralya Village of Fethiye, this valley is a habitat for many species of butterflies and will enchant you with its natural beauty.
Kayaköy: This historical village, inhabited by Greeks in the 18th century, now serves as an open-air museum for visitors.
Accommodation Options:
The vicinity of Ölüdeniz and the center of Fethiye offer a range of hotels and guesthouses catering to different budgets. Here are a few hotel recommendations near Kumburnu Beach:
Liberty Hotels Lykia: Spread over a vast area, this hotel is considered one of the best accommodation options in Ölüdeniz. It offers a variety of room options, several restaurants, and a broad beach area.
Monta Verde Hotel & Villas: Known for its unique view and luxury accommodation options, this hotel is conveniently located near the beach.
Oludeniz Loft-Exclusive Accommodation: Renowned for its numerous swimming pools and spacious garden, this hotel offers a comfortable and luxurious stay.
Suncity Hotel & Beach Club: This hotel is ideal for families with children, offering children's pools and kids' clubs.
Of course, beyond these hotels, there are many other options, including budget-friendly hotels, pensions, and rental villas. If you prefer to stay close to Kumburnu Beach, you may opt for accommodation options in Ölüdeniz. Alternatively, you can also choose to stay in central Fethiye, which offers easy access to the beach. Both regions offer a broad spectrum of accommodation options.
In conclusion, Kumburnu Beach is more than just a beautiful beach; it is a gateway to the rich historical and natural attractions that Fethiye offers. With a wide array of accommodation options, it caters to all sorts of travel styles and budgets, promising a memorable visit for every traveler.